Polygon is a decentralized model that enables fast, secure, and easy transactions. It is a layer 2 scaling platform that handles the transactions of layer 1 or Ethereum mainnet. Besides that, the platform also offers user-friendly UX design and many other facilities.
Some of the key factors of Polygon are
Low cost, scalable and secure transactions 

Easier horizontal scaling 

Smooth user interface 
The architecture is also known as the 'Ethereum Internet of blockchains.' It was co-founded by Jayanta Kanani with the aim of solving the slow transactions and scalability issues of Ethereum. Right from the beginning, the Polygon thrives on taking first place in the crypto market. However, the project was truly boomed when American intrapreneur Mark Cuban invested in this platform. Mr. Cuban promoted it on the global stage, and it got global recognition for safer, cheaper, and more secure transactions. On February 9 last year MATIC rebranded itself as Polygon, and it created massive hype in the market.  
The developers of Polygon created four distinct layers in the system. These are
Ethereum Layer: The smart contracts communicate between Matic chains and finalize transactions. 
Security Layer: It provides security to the network. 
Network Layer: It is the ecosystem of the blockchain. 
Execution Layer: It executes smart contracts. 
As it has four distinct layers, it can work more efficiently in any situation. In this way, Polygon provides a smoother investment experience. Indeed, Polygon is considered one of the most advanced projects in a decentralized ecosystem.  
Let's look at the price analysis of MATIC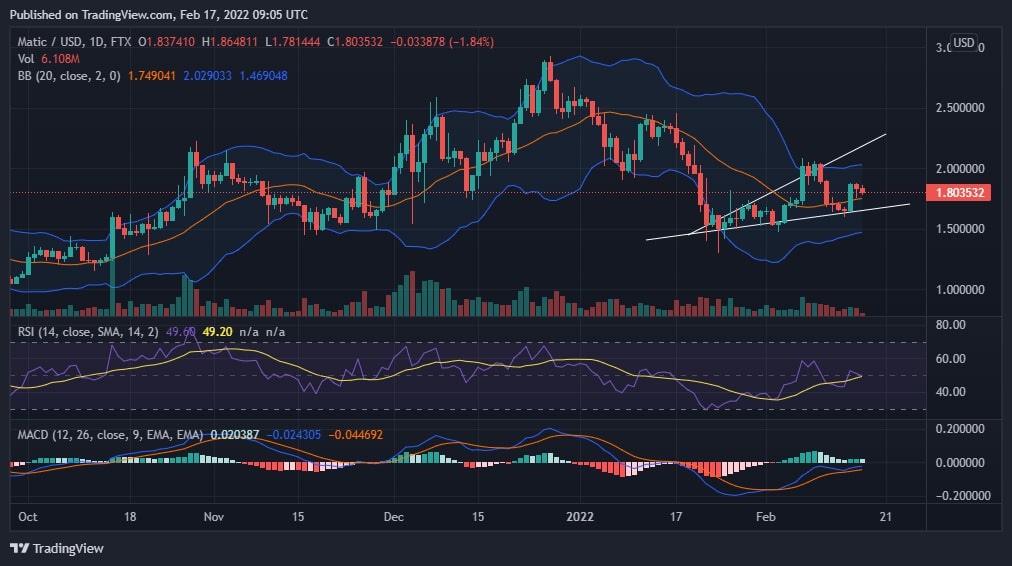 At the time of writing, the MATIC USD is trading at a price of $1.80. Interestingly it has formed a triangle-shaped recovery after taking support of around $1.50. If it follows the triangle pattern, it will come to the level of $1.60 and again rise to $2.12.  
On the daily chart, MACD is bullies, and the RSI is around 45. The candlesticks are forming in the upper half of the Bollinger Band. Overall, all the indicators are positive. Based on the current price trend and MATIC price prediction, we think that Polygon will be a good investment in the long run.
From May last year, it started a bullish trend and formed higher highs and higher lows. However, it broke the support in January, and it is now showing a sign of recovery, so we think it is a good time to invest. If it follows the triangle pattern, the strong resistance level will be around $2.40. You can invest for the long and short term with a stop loss of $1.50. Follow our website to get the latest updates on cryptocurrencies.