AnalystQ is a comparatively new online broker that lets traders trade cryptocurrencies, currency options, precious metals, and soft commodities. The platform lets you trade both in the manual mode and in the automatic mode. With AnalystQ, traders can trade over 16,000 trading instruments and assets. This trading platform is available for clients in over 170 countries and is still expanding.
The platform offers different account types to choose from according to your personal preferences and experience. You can even personalize them to your particular needs. Whether you are new to the trading world or have been trading for years, AnalystQ is your one-stop solution for all your trading needs. Rollover to have a look at the detailed AnalystQ review.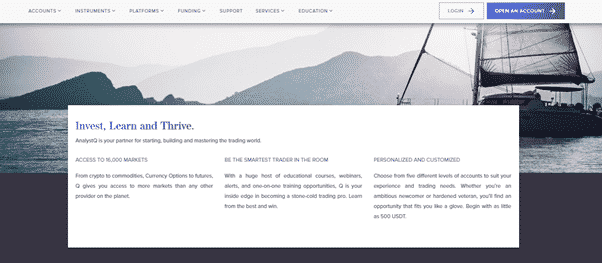 Though you have many options when it comes to selecting a trading platform, you should go with AnalystQ only. One of the main reasons is the different account types it offers. Let's have a look at all the accounts that AnalystQ has in this AnalystQ review:
1) Primary Accounts: If you are a new trader or an intermediate trader, the Primary account offered by AnalystQ is the best option for you. Primary accounts are available in 3 different tiers. Each tier comes with advanced quality trading tools and quality execution to trade multiple assets. Let us have a look at each tier individually:
Standard Account: Perfect for newbies, the AnalystQ Standard account offers many tradable assets. You need to deposit a minimum amount of $500 to get this account along with the latest tips from the specialists so that you trade smarter.
Education Account: This is the second tier offered under the Primary Accounts category of AnalystQ. To get started with this account, you will need to deposit a minimum amount of $5000. It comes with all the features of a Standard Account along with access to the MT5 platform and elite webinar library.
Specialty Account: The last tier under the Primary Accounts category of AnalystQ is the Specialty Account, best for those active traders out there. Deposit $25000 to get started with this account. Get all the features that come with an Education Account along with live support for 24/7 to guide you when you want.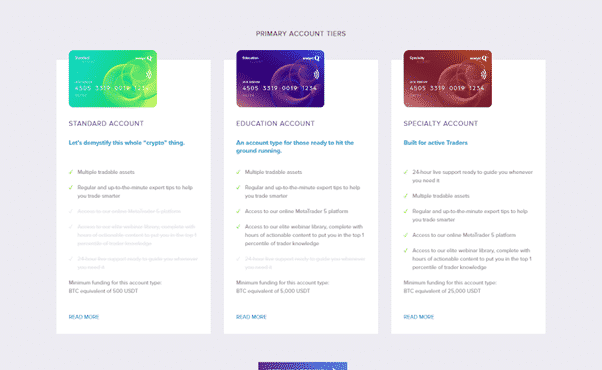 2) Professional Accounts: The second category of account offered by AnalystQ is the Professional Account. As the name suggests, this category of account is best for Professional traders. Get the best insights from professionals, trading signals sent to your phone, and special invitations to VIP events with Professional Accounts. The two tiers available with AnalystQ are:
MarginQ Account: Deposit a minimum amount of $75000 to get personalized and dedicated service with an AnalystQ MarginQ account. You will get unlimited phone support from AnalystQ trading teams and a 24/7 available direct phone line to the trading room. You can become successful in your trades with personalized sessions, live trade reviews by top analysts, and getting trading signals directly on your phone. You will also get access to their elite webinar library and online MT5 platform.
Platinum Account: If you want to trade with a top-tier account, then you can go with the AnalystQ platinum account. It will require a minimum deposit of $1,50,000. It comes with all the features of a MarginQ account along with better spreads and invitations to VIP events at AnalystQ.
3) AutomatiQ Accounts: Trade on Autopilot mode with AutomatiQ account of AnalystQ. You can turn this system on/off whenever you want. With this account, you also get an opportunity to work with an analyst to select the best strategies for you. The top experts create the strategies that are run on this platform. Hence, you can rely on them completely. To get started with this account, you just have to fund your account, select an appropriate strategy, and your trade will be placed automatically.
Instruments that can be traded on AnalystQ:
1) Cryptocurrencies: Cryptocurrency has become one of the top niches to trade recently. AnalystQ also lets you trade cryptocurrencies without even owning them. With their advanced tools, you can look at the prospective cryptocurrency trends and help you make profitable trades.
2) Currency Options: Currency Options is also known as the foreign exchange currencies market. It is one of the preferred markets as it offers limitless opportunities to trade. People have become millionaires by trading in this market. However, risks are also present, so you need to trade carefully. If you are looking to trade currency options, AnalystQ offers matchless services for currency options trading. With reliable and well-informed chat support, you can get the information, guidance, and help you need 24/7. You get a range of currencies to trade at leading-edge prices.
3) Energy Commodities: AnalystQ lets you trade both renewable and non-renewable commodities on its simple trading platform using different trading options and advanced tools for risk management. You can rest assured to get well-researched insights from the market leaders as well.  
4) Precious Metals: If you want to go for a wise trading option, then go for precious metals. People have been trading them for years and they are a well-liked option. They provide a very powerful diversification chance. You can trade gold, silver, platinum, and palladium at AnalystQ.
5) Soft Commodities: Another great instrument available to trade at AnalystQ is soft commodities. Soft futures can also be shortened during the downtrends as they will yield great profits. Moreover, no default risk is involved with them. Every trade that you place occurs in the AnalystQ's reliable trading network.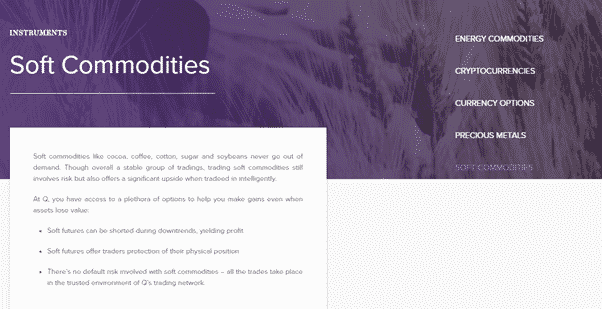 1) Educational Courses: AnalystQ has a big collection of educational courses that you can select from. Whether you are a newbie, intermediate trader, or a seasoned expert, you can find a course that will suit you perfectly and increase your trading knowledge and skills. The topics include but are not limited to stocks, indices, commodity trading, trading strategies, latest market trends, and more.
2) Online Trading Courses: Increase your knowledge base with the online trading courses offered by AnalystQ. You can take up these courses at your pace. These courses are a great option to get knowledge for those who don't have enough time to go for a comprehensive course. Get access to 1-click virtual learning, high-volume trading specialists, webinars organized by analysts, and much more.
3) Personal Trading Coaches: Get individualized and tailored mentorship from certified and experienced trading coaches at AnalystQ. With their help, you can energize your portfolios and make well-informed moves while trading.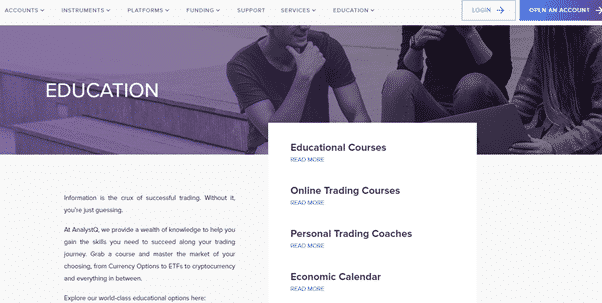 Platforms that are compatible with AnalystQ:
1) Android Trading App Platform: If you want to trade using your Android device, then nothing can be better than the Android trading app platform of AnalystQ. You will get 24/7 help from Q's support team, real-time data, immediate push notifications, and a chance to track your trades.  
2) iPhone Trading App Platform: The iPhone trading app offered by AnalystQ lets you trade anywhere and anytime. With this app, you'll never miss a great trading opportunity. You will start enjoying trading because of its responsive, high-class design.
3) MetaTrader 5 platform: Use the MT5 platform of AnalystQ to get detailed analysis and tools across different financial markets, be it any exchange, future, or cryptocurrency. Get access to strategists and developers, and real-time indicators offered by seasoned analysts. The MT5 platform also offers trading robots who can trade for you and run different predefined algorithms.
4) Tablet Trading App Platform: Started trading with the swipe of your finger using the tablet trading app platform of AnalystQ. Get guidance from the Q's support team. Get the latest updates about the market conditions and make informed decisions to make profits.    
5) Web Trader Platform: Start trading like a professional trader using the AnalystQ Web Trader platform. No matter what device you have, you just need an internet connection to start trading using this platform. Since you sign up with the AnalystQ Web Trader Platform, you get complete access to the historical trading data and risk management tools. You will also be able to compare the different assets vis its multi-charting window, analyze financial instruments trends, and view trending assets.
With AnalystQ, you can trade even if you don't want to dip into your pocket. Q's monetary leverage will benefit both the seasoned and novice traders. It will get you noteworthy rewards that are otherwise hard to get.
Margin and Leveraged Loans
Get a margin loan against your own security. Your buying power is increased with a margin loan. There is no waiting time, and will enjoy low-interest prices without any yearly fees and closing costs.
A leveraged loan is another great option for traders and investors looking to get monetary support to buy stocks or manage their debts. If you have a bad credit score but want to trade, then AnalystQ leveraged loans are for you.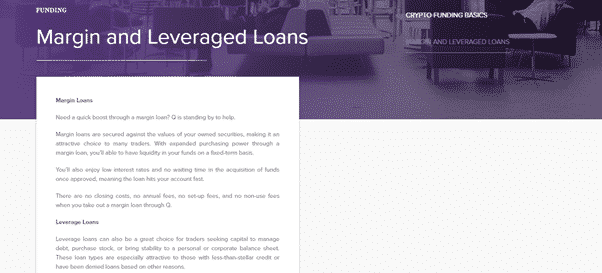 Services that AnalystQ offers:
Dedicated Sales Trader: Sales traders at AnalystQ can help you with sales, crypto funding, understanding the market's volatility, and much more. Now, you don't need to go on your taring journey alone as Q's dedicated sales traders are there to help you at every step.
In-House Analyst: Use your secret weapon of in-house analysts offered by AnalystQ. These analysts have your best interests in their minds and use their experience to empower portfolios.
Personal Relationship Managers: With personalized help from one of the experts at AnalystQ, you can harness the market volatility and maximize gains. The AnalystQ personal relationship managers are readily available through phone, email, personal meetings, and chat.
Personal Trading Courses: Trading knowledge is very important to become successful in the trading world. The personal trading courses of AnalystQ offer knowledge that is limited to the expert trainers only without taking years of mentorship. Build your skills with the help of Q's personal trading courses.
Email Support: Nothing can be better than an email to clarify your doubts, resolve your concerns, or get assistance with anything else. AnalystQ has 4 different email addresses mentioned on their website to help you. They include email addresses for support, compliance, analyst desk, and trading desk.
Whatsapp Support: With 1.5 billion users using WhatsApp, this communication channel is used by AnalystQ with applications for Mobile and Desktop. The customer support representatives of AnalystQ are available securely and directly through WhatsApp.
Telegram Support: Q offers comprehensive trading services and solutions with Telegram support. They have included Telegram for flawless and safe services in their customer support.
Phone Support: Another quick and efficient customer support channel at AnalystQ is phone support. You have to select your country's code from the given list and call them using their local number.
When you choose an online broker to start trading, you should select wisely. If you select to start trading with AnalystQ, you get an extensive choice of over 16,000 assets to choose from. It is one of the best brokers out there.
1) How Many Instruments and Assets Can I Trade With AnalystQ?
Ans. AnalystQ lets you trade more than 16000 instruments and assets including cryptocurrencies, currency options, precious metals, and soft commodities.
2) What benefits do personal training coaches offer?
Ans. The personal training coaches at AnalystQ are experienced, certified experts. You can get individualized and tailored mentorship from them. They can help you make informed decision during your trading sessions.
3) What is the minimum deposit amount needed by AnalystQ?
Ans. The minimum deposit amount needed to start trading is 500 USD in the Standard Account which falls under Primary Accounts. It is the best account available for new traders.